Radical steps need to be taken to change the way we perceive things, a church leader Reverend Jeremaia Waqainabete says, adding most of us have been brought up in a way that has prevented "thinking outside the box".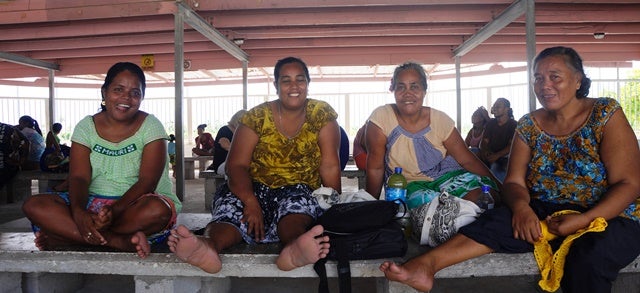 Rev Waqainabete, a proponent of inclusive theology and the rereading of the Bible considerate of this paradigm shift (of inclusivity) also lamented the dominance of a patriarchal mind-set which he agrees is a major part of the anthropogenic nature of global warming.
Rev Waqainabete says the mind-set has been largely supported by the majority of biblical interpretation of a verse in which God tells men to have dominion over the Earth. In this one verse alone, Rev Waqainabete explained, the interpretation of the Bible from a patriarchal perspective meant humanity had unwittingly sanctioned the unsustainable exploitation of natural resources.
In the same way, in a heteronormative sense, the patriarchal mind-set explains how women are largely absent from the Bible, Rev Waqainabete said.
"This sense of having dominion over creation has been taken overboard but I think the proper way to interpret the whole text is that you have dominion over creation when you are in God's image, when you have that ability to take care of nature," said Rev Waqainabete, who recently participated in a global meeting in New York of faith-based organisations on their role in the affirmation and implementation of the proposed sustainable development goals or SDG.
"You go through the Bible and there is almost nothing about women but it does not negate the fact that they were there so it really challenged me to see how I can reread the Bible to be inclusive and to see the invisible women who are always present and understand that God is beyond the deity that I can perceive through the capacity of my intellect.
"So it really moved me to write on that thinking that … to do away with that patriarchy mind-set, which is only possible when we change our theological understanding and that comes with rereading the Bible with an inclusive mind-set.
"I think we need to take some radical steps to change how we perceive things." Mr Waqainabete was discussing, among other issues related to the partnership between faith-based organisations and the United Nations, the realisation of young people's sexual and reproductive health and rights.
Rev Waqainabete whose dissertation was on the question of "How can the Methodist Church respond to Global Warming and Climate Change" has high hopes in today's youth who, during a recent regional conference, demonstrated a healthy capacity for acceptance of inclusive theology.
Discussing the numerous layers of being a young person today with a belief system, Rev Waqainabete also believes the church has had a role to play in the "misconception of our sexuality" in that the theological interpretations of sexuality have been "so limiting, it is almost associating sex with immorality, failing to identify the fact that sex is God's gift to human kind and if you can only understand that in a new light we will begin to enjoy God's gift and when enjoying or engaged in that activity, fully aware that we are in the presence of God", because it is within godly boundaries.
Asked about his approach, as a spiritual leader and more importantly as an indigenous male for whom cultural nuances may prove difficult, to the discussion of matters related to sexual and reproductive health and rights of young people, Rev Waqainabete emphasised the appropriate utilisation of words and the manner of delivery.
"I would like to advise that when dealing with our people in the vanua, it is important that we use the right language to share with our young people and the elders," he said.
Rev Waqainabete said he had met resistance when discussing inclusive theology. "I tried to use words that have this respect when we identify women, identify men, identify sexual activities - it's open but you've got to choose the right word and the manner in which … and I believe that if the Spirit is with you (and if) you have the passion, it will be spontaneous, it will just come."
UNFPA Pacific Sub-Regional Office director and representative Dr Laurent Zessler said with a world of 1.8 billion young persons (between 10 and 24 years) of which 600 million are adolescent girls in this generation alone, ensuring a strong foundation for all aspects of young people's lives should be priority.
"When we work together as influencers in the lives of young people to ensure they make healthy transition from adolescence into adulthood, the options expand for the future," Dr Zessler said.
"The use of contraceptives remain low in the Pacific island countries while the adolescent fertility rates are considered high, and unmet needs for family planning or the number of people who want contraceptives but cannot access it for some reason, also remains an issue.
"We at the United Nations Population Fund recognise the influence faith-based organisations (FBOs) have on the daily decision-making processes of individuals though that implies as well a responsibility on the FBOs to impart without prejudice information that will be important for good health for their members."
Global development is set to begin a new chapter from September this year when the SDGs becomes a living document, as a framework to guide development efforts of member states. The SDGs has 17 goals and 169 targets, for now.
With youth growing fastest in developing countries and some of the poorest nations, member states must ensure the participation and the prioritisation of investment in youth and adolescents, which will be critical for a transformative and sustainable future agenda.
Working as a tripartite unit, the state, civil society and faith-based organisations can ensure that the voices of developing nations, which will need all the support it can get to ably provide for its burgeoning youth population, are heard.