THIS week the global family of the United Nations Population Fund, UNFPA, observed with United Nations member states the annual World Population Day, focused on the theme of "Investing in Teenage Girls".
Investing in teenage girls can take many forms. At an individual level, parents and teenagers alike can ensure one reaches the highest academic attainment one wishes to complete, before joining the workforce.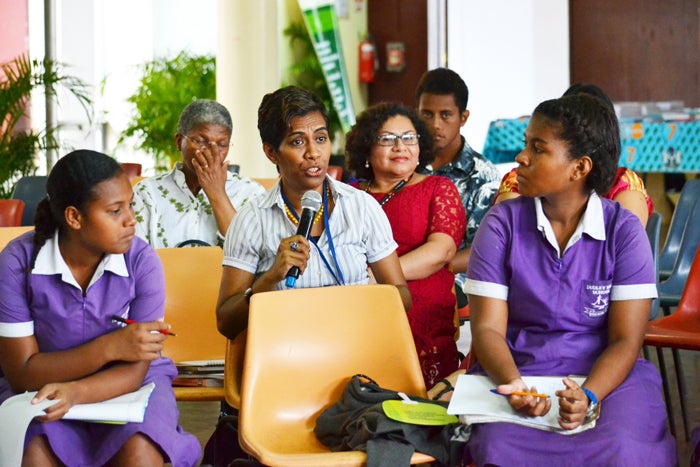 Teenage girls stand at a life-defining juncture of their lives where choices and decision-making will either mean a healthy individual who can pursue their education to the level they want to reach, or they can take pathways which lead to being a girl-mother even as they themselves are children.
Critical to investing in teenage girls is the environment they are growing up in. However empowered by correct and timely information teenage girls are, if their environment does not enable them to pursue the pathways that will lead to the future they envision, then all other efforts would have been in vain.
Being questioned about the focus on girls has also been an oft-asked question directed at the UNFPA as an organisation mandated to carry out some of the most sensitive development issues such as sexual and reproductive health.
In terms of the provision technical support for the review of family life education curriculum to ensure a holistic approach to timely and correct information for our adolescents, studies have repeatedly found that young people who have self-esteem and confidence, and who are well-informed of physical and mental changes they are going through, decide for themselves to prolong sexual debut.
UNFPA's collaborations with member states' line ministries in the field of sexual and reproductive health and reproductive rights and all its other mandate areas have always and will always aim not to leave anyone behind, as the organisational slogan "because everyone counts" implies.
In the Pacific
Teenage girls in Pacific Island Countries and Territories as those around the world face more and greater challenges than their male peers. In almost half of PICTS, 10 to 19 per cent of girls are married between 15 and 19 years of age, twice as much as their male peers.
Adolescent pregnancy rate is over 30 pregnancies per 1000 adolescent girls in 12 of the 15 countries, with five of them having between 62 and 85 births per 1000 adolescent girls. Investments are needed to protect their health, including their sexual and reproductive health, to enable them to receive a quality education and to expand economic opportunities, including those for decent work.
"The focus on girls is based on data that indicate there is a need to increase our efforts in ensuring they are accessible to information and services that will benefit them in terms of choices they make that will have an impact on their future prospects" UNFPA Pacific director and representative Dr Laurent Zessler said.
"Boys and men are critical in this work because they are a large part of the environment the girls or young women are growing up in. Investing in teenage girls in not just about girls, it is about all of us and how we contribute to the enabling environment for teenage girls to thrive in and reach their full potential."
A teenage girl whose rights are respected and who is able to realise her full potential is a girl who is more likely to contribute to the economic and social progress of her community and nation.
When a teenage girl has the power, the means and the information to make her own decisions in life, she is more likely to overcome obstacles that stand between her and a healthy, productive future. This will benefit her, her family and her community.
When she has no say in decisions about her education, health, work or even marital status, she may never realise her full potential or become a positive force for transformation in her home, community and nation.
Investing in girls will harness our countries' capacity for a demographic dividend which is a situation where those in the workforce number more than dependents.
Never fear failure
For the observation of World Population Day 2016, the UNFPA Pacific office invited some successful young people on their field of work to speak to students, to share their personal journeys with the ultimate objective of inspiring high school students who joined us on July 12.
The speakers included Avikesh Kumar, a youth advocate; Lanieta Rauqeuqe, a senior economist with the Reserve Bank; Lusiani Biukoto, a netball and basketball national rep who has just returned from South Korea with a Master's Degree in global sport management, the only woman in Fiji to attain this particular qualification; and Jope Tarai, a teaching assistant at the School of Government, Development and International Affairs at University of the South Pacific (USP).
Ms Rauqeuqe spoke of supportive parents and fun teachers who stoked her inquisitive mind, leading to a combination of subjects which did not restrict her to any one career path. Although her highest attainment from seventh form examination was in accounting, Ms Rauqeuqe later pursued economics and history/politics at USP.
"I failed Form Seven math," Ms Rauqeuqe stunned students who just heard her being introduced as a senior economist with the RBF, during the Inspirational Stories Collection talanoa. Ms Rauqeuqe spoke of her first "job", an internship with the United Nations Development Program (UNDP) that paid $50 a week.
"Lesson number one is there is no substitute for hard work, determination and faith in God," Ms Rauqeuqe told students.
"There was a reason I shared that I failed math because as an economist I've had to pass undergrad economics, and for my postgrad studies, I've had to pass applied mathematics and I'm here to tell you, all of you that I passed it, even though I failed Form Seven math.
"Don't be afraid to fail. Some of us are told all the time you can't fail, you've got to succeed all the time but I am here to tell you: you can fail, you can learn and you can make good in life, sometimes failure is the best way to teach us to become strong and they are usually a good test of our character. Don't ever fear failure."
Ms Rauqeuqe encouraged students to love themselves and believe in themselves. She told students not to believe those who tell them they are not doing well, adding "you should be capable of doing whatever you set your mind on".
Ms Rauqeuqe advised setting boundaries and encouraged positive decision-making which sometimes would have to be "no" to friends. "I had really cool friends - the kind of friends who respected me when I said no to them: if you have friends who don't respect you when you say no, let me tell you now: they are not the best of friends for you."
Ms Rauqeuqe said she has also had to "overcome people's expectations of what I could and could not do. Starting at $50 a week - it was never about the money for me, I saw the intern position as a useful starting place".
"People ask why it's important to invest in teenage girls, I think my experience speaks to life why it is important to invest in teenage girls, especially in education and I encourage you, your friends, your sisters, encourage them to invest in teenage girls: you have your mums, your sisters, as role models," Ms Rauqeuqe concluded.
*This is the first of a series of articles which will focus on the messages of speakers at the Inspirational Stories Collection talanoa in Suva, Fiji marking 2016 World Population Day.