30 July 2013, Suva, Fiji - Nurses from around the region have been urged to develop a new social consciousness as they embarked on a four-month Sexual and Reproductive Health Management Training Programme (SRHMTP) in Suva Monday.
United Nations Population Fund (UNFPA) Pacific Director and Representative a.i Dr Annette Sachs Robertson urged the nurses selected by their countries' respective health ministries to develop a new sense of responsibility towards the region's attempt to making better lives for its people through their duties as health personnel.
"I believe that today, more than ever, Pacific island nations know what must happen to accelerate the Millennium Development Goals to achieve them by 2015," Dr Annette told the group gathered at the Fiji National University, College of Medicine, Nursing and Health Sciences Tamavua facility.
"Our countries are awake and you, students of SRHMTP, must have a new social consciousness, a new sense of duty and obligation, a new sense of responsibility.
"We want the best healthcare systems for our people. We want better access to reproductive health services. We want to reduce maternal deaths and reduce unmet need for family planning and eliminate gender based violence."
Dr Annette reminded the students that maternal deaths were still occurring; this past year for example, Fiji recorded more than 12 maternal deaths; Solomon Islands 12; and Vanuatu more eight.
"We must do something about averting maternal deaths. You must in each of your countries ensure that universal access to maternal health and comprehensive emergency obstetric care become a reality," Dr Annette said.
UNFPA Pacific has been supporting SRHMTP since its inception in 1999; the course was recently institutionalized as one of the medical faculty's courses being offered through the public health school.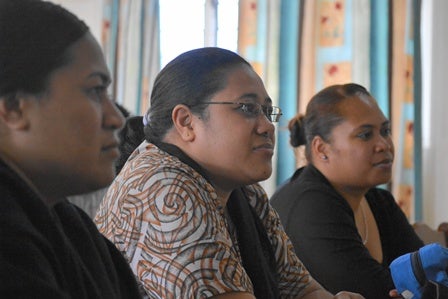 To date, 276 students have graduated from 1999-2012. Recognising the benefits of the programme, the Fiji Ministry of Health in collaboration with UNFPA Pacific and FNU conducted training for 34 Fiji participants, for the Western Division in 2011 and Northern Division in 2012.
Programme coordinator Sister Alumita Bulicokocoko believes the programme was effective because it included units which complemented the medicine aspect of the course like management (leadership), health promotion, health systems and epidemiology.
Sister Alumita is also encouraged by the Fiji government's decision to look into how doctors are required to insert certain contraceptives although nurses, particularly those who undergo the SRHMTP course, are most capable to do it themselves.
Acknowledging the need to conduct a regional evaluation of the programme, Sister Alumita said she already saw the benefits Fiji was experiencing from those who went through the course.
"I can see that they are enjoying what they're doing, they're giving the services when the women wants them ... I went to Labasa in the first semester where we inserted more than 50 intra-uterine contraceptive devices, more than 50 jadelle insertion and more than 150 pap-smear screening - these are for the Fiji students," Sister Alumita said.
Dr Annette encouraged participants to give young people, especially adolescent girls, the attention they deserve.
"We will push for greater investments in young people across many sectors-in education, including sexuality education, in reproductive health, employment and participation, but in your work we would like to ensure that you facilitate, coordinate and implement sexual and reproductive health programmes for young people," Dr Annette said.
"Your programmes will help young people, particularly young girls, to stay in school, stay healthy and free from unwanted pregnancies and HIV, postpone child bearing and eventually enter the labour market with skills to earn an income and contribute to economic growth.
"You will change the way people think, change the way you think and you will make people healthier. Eventually through your interventions you will contribute to economic success and programmes will eventuate that will be self-sustaining.
"What greater impact can a training programme have but a transformed health workforce positioned to achieving tangible results."
The participants are from Kiribati, Samoa, Tonga Cook Islands and the Republic of the Marshall Islands.
[ends]
For more information, please contact Ariela Zibiah on zibiah@unfpa.org or +679 3230 711 or +679 9991796